Painting: an easy introduction
with Katrina Brown
Painting workshop

So many of us have said "I wish I could paint – one day I'll learn!"
Take the opportunity to make those good intentions into a reality with a long weekend painting course in Savusavu.
Hosted at Daku Resort, the course offers a series of classes with local artist Katrina Brown, whose relaxed and inclusive style makes her a delight to learn with. Katrina  (like famous forbears Vincent Van Gogh and Frida Kahlo) – is almost entirely self taught, basing her skills on a fierce hunger to learn, an endless curiosity to practice and art classes when she can find them.
"In many ways, that's a help to teaching because I know exactly what I would have likes to have known when I was developing my skills," she says. "There are basic techniques that can be taught – just like maths. There's an approach that is a skill."
During the course she will cover:
Basic drawing skills
Perspective
Shading
Use and mixing of colour
How to look at a subject
Detail
Techniques for painting landscapes
Katrina teaches both by class demonstration and individual advice, going round the class to give each students help and advice.
Contact us to book special
Accommodation and pricing
Price in Fiji$: includes accommodation, breakfast, lunch, three dinners, all course fees and materials.
Materials: we will provide a set of acrylic paints and paintbrushes. We will be using primed card to paint on. If you wish to bring your own canvas (available cheaply in Suva) you are welcome to do so.
Twin shared bure $820
Single bure $1170
Accommodation is being offered in our bures on a run-of-house basis: there's a choice of front bures with an ocean view or back bures with their glorious outdoor showers looking down on the pool. These will be offered subject to availability at time of booking. All our bures vary slightly and room sizes are not uniform.
A booking for a single gives you your own room. A booking for a twin share gives you a room for two people – yourself and a friend.
You can look at the bures in more detail here.
Contact us to book special
Katrina Brown

Katrina Brown's first foray into art was in the medium of mosaics. She and a friend were inspired by the vivid intricacy it offered, and determined to learn how to do it. To this day, some 25 years later, her mosaics can be seen in various resort swimming pools and foyers around Fiji (Fiji Gateway, Macombo, Dominion, Hot Springs), with the most spectacular of her creations on a two story wall at Montfort Technical College in Savusavu.
She works mostly in acrylics and watercolours: she is currently working on a series of The Birds Of Balaga in watercolur. Recently she has been enjoying a foray into oils.
Have a look at some of her mosaics and her recent bird series (in development) below.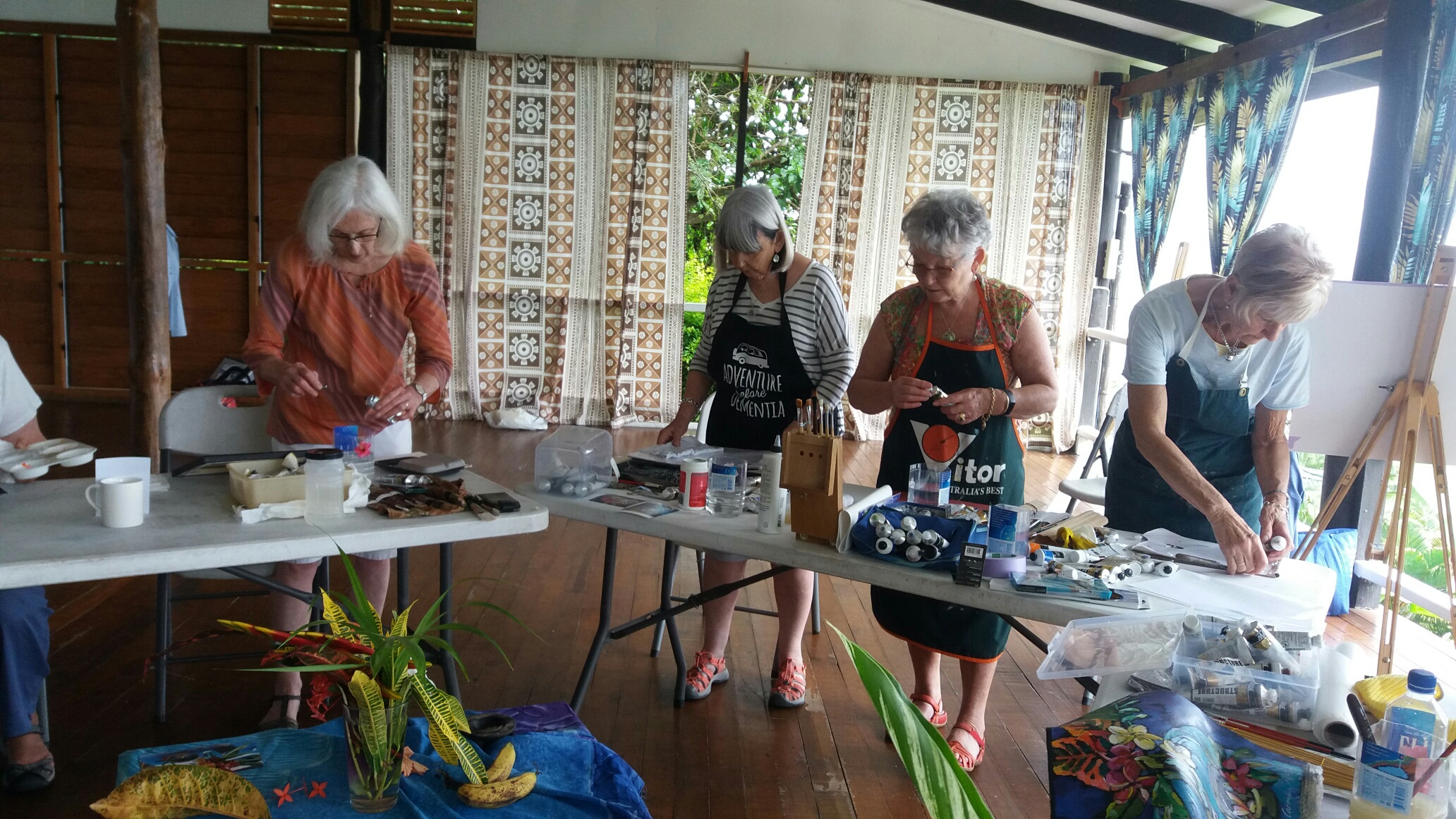 The workshop takes place in Daku's custom built open-sided platform with a spacious deck overlooking magnificent view of the bay. We may also go out for a session en plein air, depending on the group's preferences.
Daily Programme
Thursday September 17:
Arrive at Daku Resort during the day.
7.00 Welcome dinner.
Friday September 18:
9.30 – 12.30 workshop.
1.00 Lunch
Free time for continuing to paint on your own/ taking local excursions.
7.00 Dinner
Saturday September 19:
9.30 – 12.30 workshop.
1.00 Lunch
Free time for continuing to paint on your own/ taking local excursions.
7.00 Dinner
Sunday September 20:
9.30 – 12.30 workshop.
1.00 Lunch
Free time for continuing to paint on your own/ taking local excursions.
7.00 Dinner
Monday September 21:
9.30 – 12.30 workshop.
1.00 Lunch
Free time for continuing to paint on your own/ taking local excursions.
5.00 Review of the week's work and informal exhibition
7.00 Dinner
Tuesday September 22:
Depart.
All of our non-motorised activities are free – kayaks, SUPs, snorkeling outside the resort, hiking and of course just relaxing by the pool.For those who are new to Savusavu or even for regular returnees, there are plenty of unique aspects and activities to explore around Savusavu. There will be a selection of tailored activities available, showcasing Savusavu's best kept secrets; stunning reefs for snorkeling, calm waters for a downwind SUP adventure, cascading waterfalls, visit to the world-famous J.Hunter Pearl shop or explore the exotic palm gardens. A recommended trip is to the KokoMana chocolate farm and factory just behind Daku Resort, where you can hear all about how the cocoa pods are cultivated and then processed into delicious artisan chocolate.