Some of the best snorkeling in Fiji
Come and snorkel the sensational soft corals and marine life of Savusavu at Daku Resort.
Some of the best snorkeling in Fiji is found on the reefs of Savusavu Bay and the nearby coast.

You can snorkel right outside Daku. We have a small reef with a lot of juvenile fish and some pretty coral, and provides a lovely spot for beginners or for anyone just wanting to mooch about in the water! The real beauty of the reefs is a bit further out. We can take you there in our boat, or send you to the reefs outside the bay (Namena Island, Turtle Alley) with the local dive operators.
You can take individual trips day by day (open to both guests and non-guests), or you can come on one of our special guided snorkeling weeks with marine biology lectures through Paradise Courses.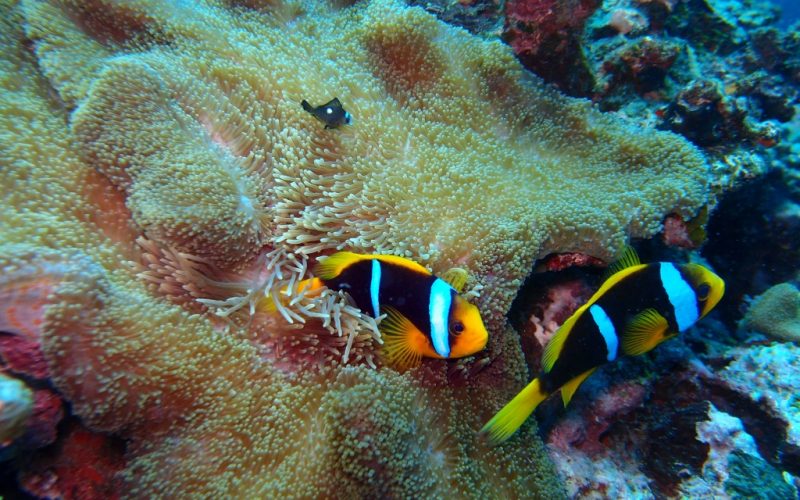 Pictured: Anemones at Namena Island Reef
You can visit the Namena Island Marine Reserve. You will board the Namena Divers boat at the dock in Savusavu first thing in the morning; the trip to the island takes approximately 55 minutes. The island is surrounded by a protected reserve; you will be snorkeling over coral beautiful reefs with a wealth of marine life.
The diving at Namena is ranked among the world's best dive sites – and the snorkeling is up there, too!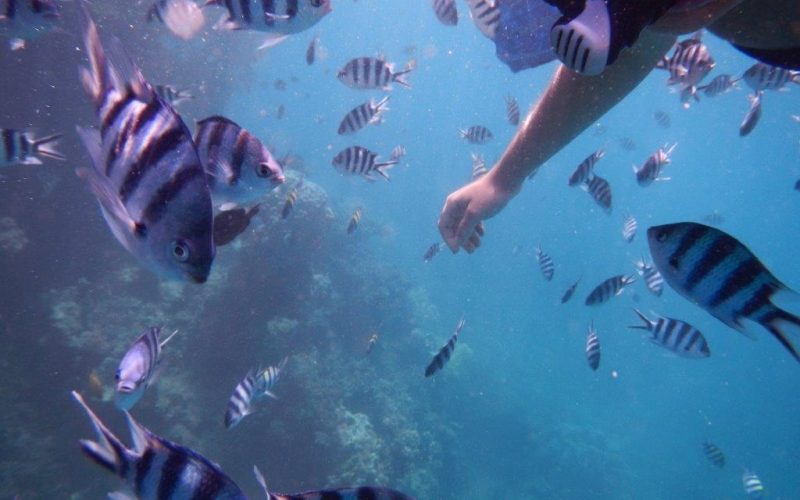 Pictured: Diving among a school of fish
It's a calm and peaceful environment ideally suited to finding that quiet space where you can really come into the full strength of your yoga practice.
We have mats and bolsters but you are welcome to bring your own mat if you prefer.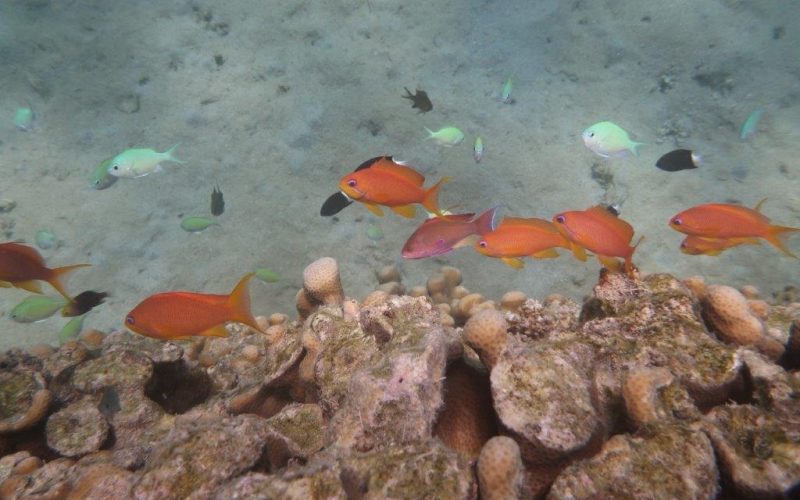 Pictured: Some 700 metres past the point of the peninsula, the twin pinnacles of Golden Nuggets offer anther magnificent display of smaller fish.
The first pinnacle has purple and orange anthias, the beautiful iridescent blue sapphire damsels, Moorish idols with their lazy grace, and the bluejewel damsel fish guarding his garden against intruders – human or fish. On the second pinnacle you will see schools of surgeon fish and snapper fish. Quite often a white tipped shark is around, utterly arresting in its fearsome power – but not aggressive to humans and very well fed on the fish life. You will also see magic coral which turns from bluey-brown to white when threatened and is hardly known outside Fiji.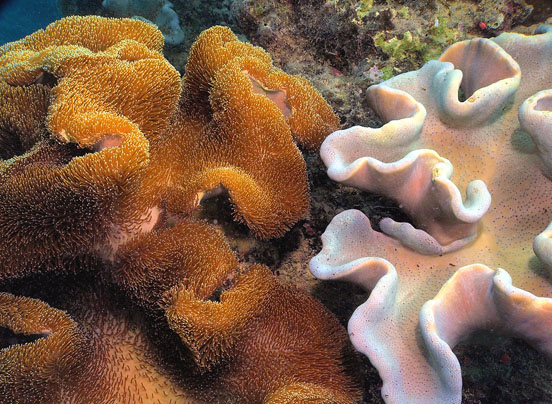 Pictured: Beautiful coral formations
Further out towards the edge of the bay stands a lighthouse, warning ships and yachts of the edge of the reef. This site is named for the lighthouse, and offers an extraordinary growth of plate corals shimmering in the water. There are also soft spaghetti corals with their tentacles swaying in the currents, and you may see a trumpet fish going by, confusing you with the appearance of a face at its tail.
Pale green damsel fish hover around coral growths, darting back into its forest to hide when you first approach but soon relaxing and coming back out. There are also humpbacked wrasse and Maori wrasse, and, if you are very lucky, a turtle.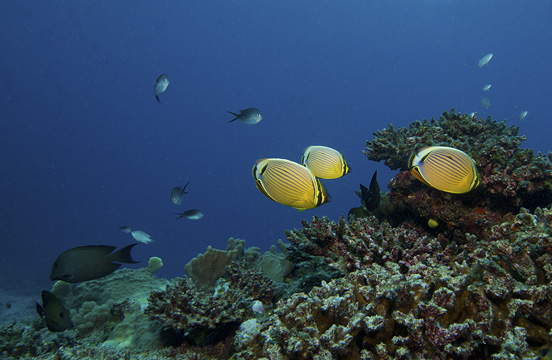 Pictured: Beautiful fish swim among coral in Shark Alley.
Shark Alley is best accessed at high tide, this site has a more suggestive name than the reality – sharks are only sometimes sighted. You are dropped off beside the reef wall and swim along the wall, coming across numerous coral heads and, if the tide is right, swimming over canyons within the reef.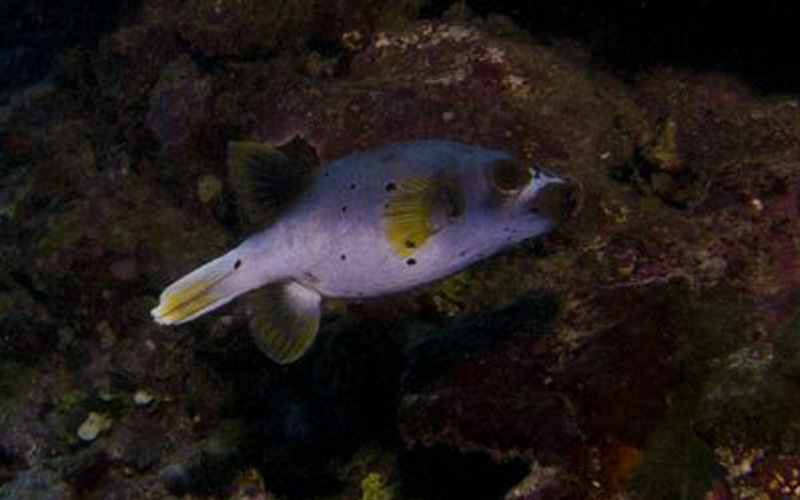 Pictured: One of many beautiful fish frolic among the corals.
Charlie's Point. This is situated a little further past the end of the peninsula. It is rich in damsel fish, parrot fish, anthias, and wrasse and there are some beautiful corals.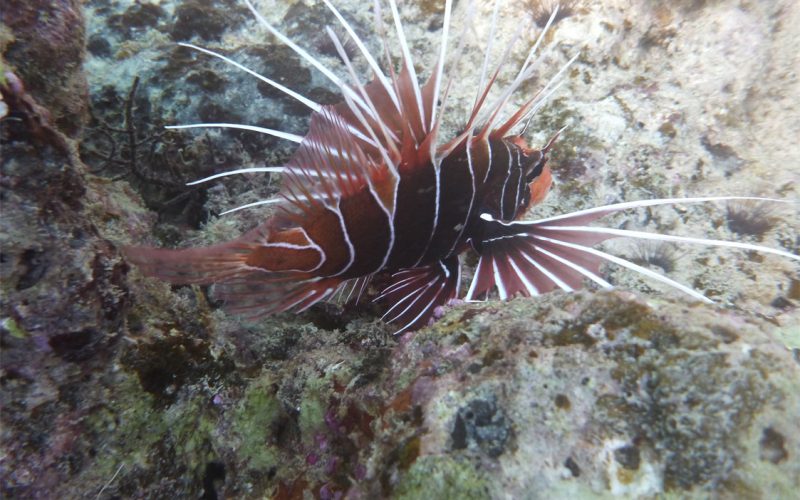 Pictured: Lionfish swims through a reef off Matuku Island.
A series of coral heads off the point across the bay, erupting in a kaleidoscope of dancing light and colour!
You can either snorkel on your own outside the resort, or take one of our staff along with you as a guide, and if you go out in our boat, we always send both the boatman and a guide. We'll recommend where to go, based on weather and tides. For equipment hire, we have masks, snorkels and fins.
The sun is hot even when you're in the water, so bring along something to protect your the back of your legs and your neck and shoulders. And in the months of June – October when the water is a bit cooler, you might like to bring a Lycra body-suit or even a short wet-suit if you are liable to feel the cold.