Birdwatching
Birdwatching in Fiji offers the opportunity to see a number of tropical birds in their natural habitat.
Our island, Vanua Levu, is home to a large number of birds, including the rare silktail which is found in the eastern end of the island.
We offer a flexible 4 day programme which can be done whenever you want – price only covers the birdwatching.
OR we can take you on a one day trip to Vusaratu, home of both the silktail and the endangered Natewa swallowtail butterfly which was only discovered in 2017.
Daily programme
For flexible 4-day package.
The excursions are to areas noted for particular birds, and we'll also walk around the extensive land of Daku Resort itself. As well as many more common Fijian birds such as the reef heron, the kingfisher, the shrikebill and the honey eater, we will set out to see the orange dove and the silktail, both of which are to be found on our island. In fact, the orange dove has been spotted on the estate of Daku Resort itself. A reasonable degree of fitness is required if you are to access all the sites; the two areas where the silktail and the orange dove are found are steep and difficult. We set out early on most days.
Of course you'll be bringing your own binoculars, but if you're looking for advice on these, have a look at When Outdoors for some of the latest easy-to-carry small binoculars.
The descriptions of the locations are written by one of our first birdwatcher visitors, Andrew McCutcheon. Many thanks to him for his meticulous observations.

Day 1: Trip to Waisele to see the orange dove. 
Waisele is a 40 minute drive along good tarred roads. The terrain in the rainforest is steep and can be muddy.
Andrew: This is a rainforest reserve established in a partnership by the local community and the National Trust of Fiji with support from NZ Aid. It forms the central part of the FJ02 Wailevu/Dreketi Highlands IBA, which is important for the Friendly Ground-dove, Long-legged Warbler (Vanua levu subspecies), Black-faced Shrikebill and all other endemics known to exist on Vanua Levu except for the Silktail. The reserve is also significant as it has good examples of tropical lowland rainforest and the best remaining stands of Dakua Fiji Kauri' trees Agathis macrophylla in Fiji.
Despite our high expectations we saw very few birds in the rainforest reserve, but do not for a moment suggest they are not there. The best explanation for finding so few birds was that we arrived too late in the morning well after they had stopped their morning calling. However, two species birds we did see were significant. A couple of members of our group saw a female Black-faced Shrikebill, which was identified by its heavy bill with light markings. This species is listed as Vulnerable under the IUCN Red List Threat Category. And we all saw a single female Orange Dove roosting high up in a tree.
Other birds either seen or heard include Wattled Honeyeater, Fiji Goshawk, Barking Pigeon, Island Thrush (heard only) and Streaked Fantail.

Day 2: Buca Bay, Devo to see Silktail.
Long and demanding day – 3 hours drive each way, mostly on dirt roads. We leave Daku at approx 4.00am to be there at the best time for the birds. Once there, the terrain is steep and overgrown.
Andrew: This was our opportunity to see two iconic species, the Silktail and Orange Dove and we were not disappointed as both these species were frequently and easily seen (but not so easy to photograph). The Silktail is a truly impressive little bird being deep velvet black with blue spangling on the head and upper body parts, and having a conspicuous silky white rump. We saw at least three individuals in this patch of forest leading us to believe that there must be a reasonably large population of these birds on the peninsula to which the Vanua Levu subspecies of the Silktail is restricted.
The Orange Dove with its vivid orange plumage in the male bird is equally impressive. The call is a very distinctive and mechanical tock repeated at various rates of frequency. In complete contrast the female is a green bird, but despite her effective camouflage was more frequently seen than the male bird.
Lots of other bird species were seen here in a multiple species foraging group the presence of which is signaled by the Slaty Monarch and Streaked Fantail. Looking more closely into the group other species appeared including the Lesser Shrikebill, Golden Whistler (a very colourful and handsome bird) and of course the Silktail. Lower down close to ground level the Fiji Bush Warbler, more often heard than seen also appeared. Other notable birds seen in this area included Barking Pigeon, Fiji Woodswallow and our only sightings of the Red Shining Parrot.

Day 3: Early walk behind Daku.
There is a good dirt road all the way; its very steep up – and very steep down.
Andrew: We all went for an early morning walk before breakfast along the forest tracks in Daku Estate. Although the bird calls were not overly plentiful, the species we did find were interesting. We heard the Scarlet Robin calling in the same place as before and were determined to see it this time. Despite it constantly calling we found the bird to be a ventriloquist, and for this reason good at avoiding detection. After scrambling down the steep slope below the track we finally saw it, a lone immature male calling desperately for a mate. Compared to the Australian Scarlet Robin this is a much smaller bird at 10 cm in length (as opposed to 13 cm for the Aust. Robin), but makes up for its small size with plenty of bright red on the breast which seems to extend further down on the Fiji bird.
The other significant sighting was an immature White-throated Pigeon in the same area as the Scarlet Robin.
In addition to these two species we saw a range of birds frequently seen in the area including Fiji Goshawk, Streaked Fantail, Vanikoro Broadbill, Wattled Honeyeater, Orange-breasted Myzomela and Fiji Parrotfinch.
Day 3: Afternoon trip to Oneva. 
(You can equally well do this on another morning, which is how Andrew saw it.)
A 25 minute drive along the coast on good tarred road. Fairly easy terrain in the forest; very easy flat terrain on the coastline.
Andrew: Another early morning start to an area of forest behind the Koro Sun Resort. Despite a promising start after hearing the Golden Whistler and Scarlet Robin (I got a glimpse of the female), we saw very little after that.
We then moved on to a section of coastline nearby and saw many of the birds that inhabit the tidal zone in Fiji. Birds seen were two pairs of the very elusive (in Fiji) Pacific Black Duck, Pacific Golden Plover, Wandering Tattler, Ruddy Turnstone and another elusive bird a single Mangrove Heron.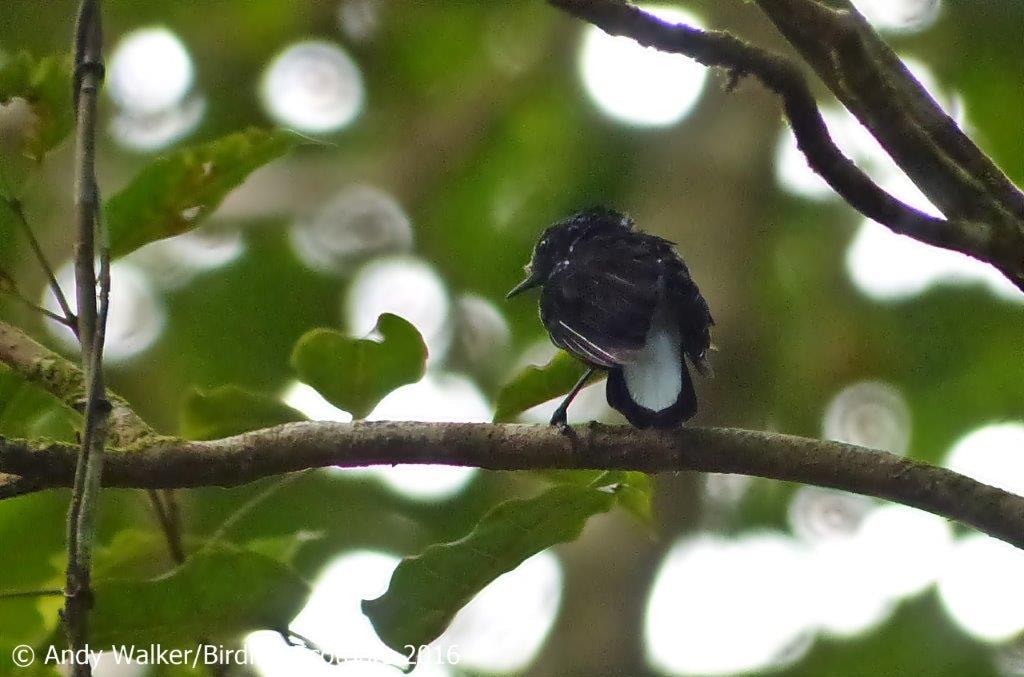 Day 4: Naqere.
This location is very close to Savusavu, about 15 minutes drive from Daku Resort.
Andrew: There were plenty of birds, the highlight being a pair of nesting Blue-crested Broadbills, our first and only sighting of this species. They were seen feeding a single chick in the nest. Further up the track we witnessed a multiple species foraging group of birds consisting of Slaty Monarch, Streaked Fantail, Polynesian Triller, Fiji White-eye, Golden Whistler and Lesser Shrikebill.
This little patch of rainforest located close to Savusavu should definitely be included in any future bird watching programs. It mostly contains plant species indigenous to Fiji rather than being dominated by a canopy of exotics such as Rain Trees and Mahogany as we have seen in other forests. Hopefully Maleli will continue to protect this patch of rainforest and he will be encouraged to do so with financial support from visiting birdwatchers in the future.
Total cost: Dependent on numbers and which days you wish to include. Please contact us for a quote. Cost is for birdwatching excursions only; accommodation and food is separate.
This course can be booked directly through Daku Resort via [email protected]