Experience a different Fiji
Plunge deep into the heart of the land
South Pacific Islands have always been part of a dream about palm fringed beaches and exquisite coral reefs in an azure sea. They still are. But now they offer even more for those ready to fly to places where you can really experience a different way of life.
Contact us to book special
What we'll show you

Savusavu on Vanua Levu, Fiji's northern island, has never had many visitors until now. Savvy travellers have been exploring the special niches of the North of Fiji for some time – and now travellers in the know are experiencing the real South Pacific by getting involved in how people in this remote part of the world actually live and make their living. Whether it's above the water or below, visitors can now experience and better understand lives that are simple and fulfilling – whilst still enjoying the heartfelt warmth and hospitality of Fiji's North.
*learn how to turn cocoa into outstanding chocolate
*discover how the stunning multi-coloured pearls of the Pacific are grown
* see how to make soap from coconuts and charcoal
* discover ancient crafts of weaving – and new ones involving making jewelry from plastic waste
Whatever it is, the aim is to provide hands on experiences that will make you see the world quite differently.
A week or, better still, two, of involvement and immersion in a culture that will leave covid behind and make you more mindful and joyful.
Daily schedule
Wake up to a fresh tropical breakfast by the pool.
During the day we'll take you on a number of local excusions and visits and in between, there will be plenty of time to relax, swim in the pool, have a massage, hike up the mountain and  explore Savusavu.
Accommodation and pricing
Accommodation is being offered in our bures : there's a choice of front bures with an ocean view or standard rooms in our rear bures with their glorious outdoor showers looking down on the pool. If there's a group of you, contact to ask about our three and four bedroom houses and villas.
Prices includes all meals.
7 nights / 8 days:
Ocean View Bure: Single US$1875  Double (two people in a room) US$1115 each
Standard room: Single US$1330 Double (two people sharing a room) $845 each
You can look at the bures in more detail here.
Contact us to book special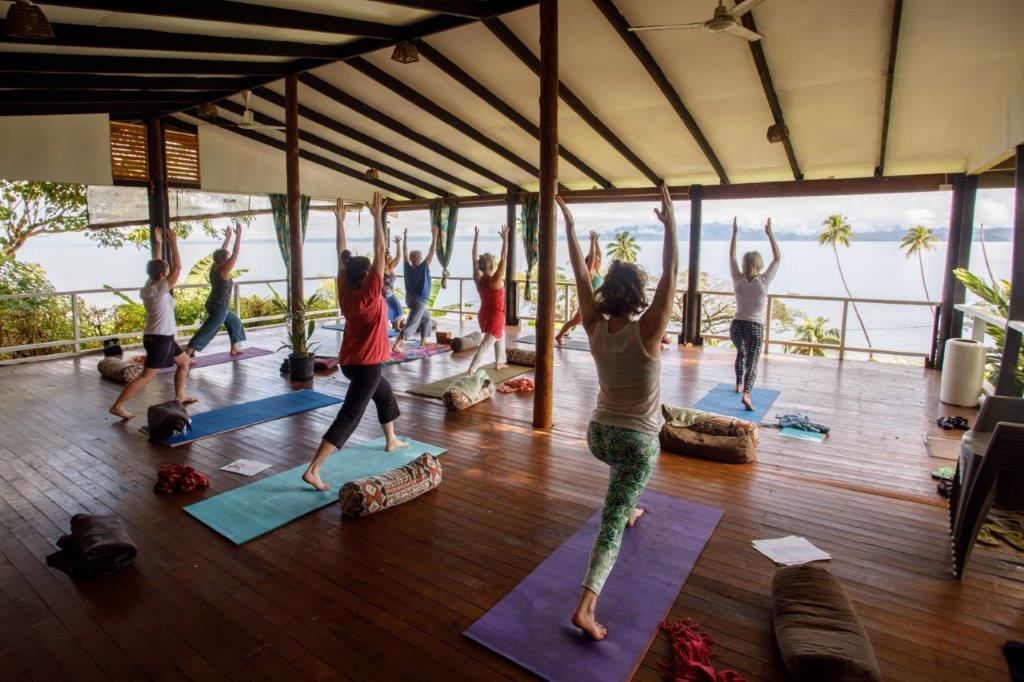 Whilst here, feel free to do your own practice in Daku Resort's stunning yoga shala; a custom built open-sided platform with a spacious deck overlooking magnificent view of the bay creating a feeling of deep tranquillity and peace.