Breath and healing
Yoga retreat with Ilana's Heart Yoga
Retreat
Ilana's Heart Yoga class is a breath of fresh air on  many levels. Using the "Ujjayi breathing" technique which connects each of the yoga asanas to the breath or the sound of the ocean breath, Ilana's Heart Yoga is the  practice of linking breath, body movement and asanas together, using the breath as guide. Each asana is held for several rounds of breathing, all done at the student's own pace, guided by the breath.
She is currently expanding from teaching yoga classes to collaboratively hosting yoga retreats within Fiji, which focus on breath, meditation, visualisation and using simple tools for stress management. She has seen the demand for healing amongst Fijians, who are experiencing stress and burdens from the demands of their jobs, the recent COVID19 lockdown and restrictions experienced by families and demands of everyday living.
This retreat at Daku Resort is a chance to deepen and explore your practice as well as escape your daily routines. Ilana will guide you at your own pace in to an awareness of your body and a stilling of your mind, putting you on a path to greater peace.
But that doesn't mean you won't work! One of her students describes her class as follows:
I found Ilana's sessions very accessible and relaxing and was suited perfectly to my physical level.. It was like a comprehensive sport stretching routine combined with meditation. Ilana has a positive and gentle manner and was clear in her guidance which really put me at ease. Despite this the sessions really pushed me physically, and I was always sweating by the end. But I felt very good afterwards for days, more relaxed and calmer.
Daily schedule
The retreat is based on two daily 90 minute practices. The morning practice runs from  7.30 – 9.00 and is followed by brunch. The late afternoon practice runs from 4.30 – 6.00pm. Then we gather for drinks and dinner.
There will also be a late afternoon practice on the first day (Thursday July 9) and on the morning of the last day (Tuesday July 14).
In between, there will be plenty of time to relax, swim in the pool, explore Savusavu or go on any one of a number of excursions which are on offer.
Contact us to book special
Accommodation and pricing
Accommodation is being offered in our bures on a run-of-house basis: there's a choice of front bures with an ocean view or back bures with their glorious outdoor showers looking down on the pool. These will be offered subject to availability at time of booking.
5 nights / 6 days:
Single $1170
Twin share (two people sharing a room) $820 each
You can look at the bures in more detail here.
Contact us to book special
Ilana Burness
Ilana started her yoga business in January 2018, teaching group classes at Suva Physio Centre for 6 months between June and December 2018 to a wide range of clients. She has taught free yoga at Albert Park, Suva, as well as to corporate clients including Courts, Fiji National University, FRIEND Fiji and the British High Commission. She has collaborated with Dr Marilyn Cornelius of Alchemus Prime, conducting meditation and stretching sessions at the Indian Cultural Centre in Suva.
She is a certified yoga instructor with diverse training in Hatha Yoga. She is Hatha yoga teacher, certified by the Heartfulness Yoga School, Hyderabad, India (2019). She is also a registered yoga teacher (RYT) with Yoga Alliance (200 hours), trained by Mark Whitwell in the Heart of Yoga (2017). She has been teaching hatha yoga to local and international groups as well as corporate organizations since mid-2018, and giving private individual lessons since early 2018.
.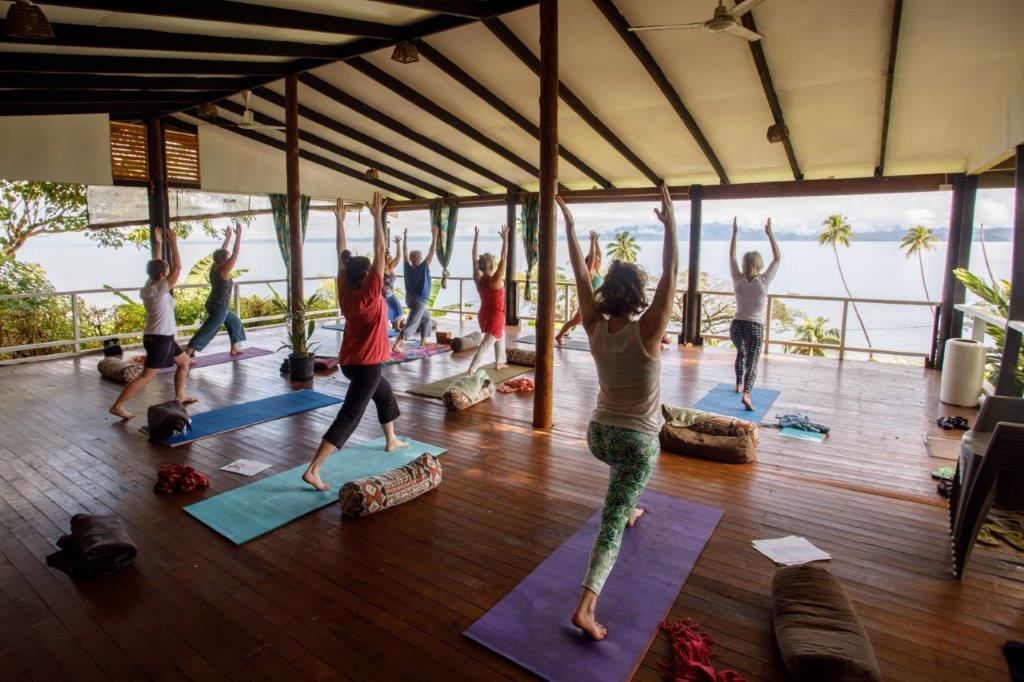 The yoga practice takes place in Daku Resort's stunning yoga shala; a custom built open-sided platform with a spacious deck overlooking magnificent view of the bay creating a feeling of deep tranquillity and peace.
Activities
All of our non-motorised activities are free – kayaks, SUPs, snorkeling outside the resort, hiking and of course just relaxing by the pool.
For those who are new to Savusavu or even for regular returnees, there are plenty of unique aspects and activities to explore around Savusavu. There will be a selection of tailored activities available, showcasing Savusavu's best kept secrets; stunning reefs for snorkeling, calm waters for a downwind SUP adventure, cascading waterfalls, visit to the world-famous J.Hunter Pearl shop or explore the exotic palm gardens. A recommended trip is to the KokoMana chocolate farm and factory just behind Daku Resort, where you can hear all about how the cocoa pods are cultivated and then processed into delicious artisan chocolate.
The price for the retreat covers accommodation, brunch and dinner and all yoga sessions. It's a very special opportunity for locals to explore the wonders of our own country whilst gaining the benefits of a relaxing and calming retreat at a very small proportion of the price (regular 7-night retreats are FJ$2,750 upwards).